Congratulations to Tom Brady
Emerald of the Year 2020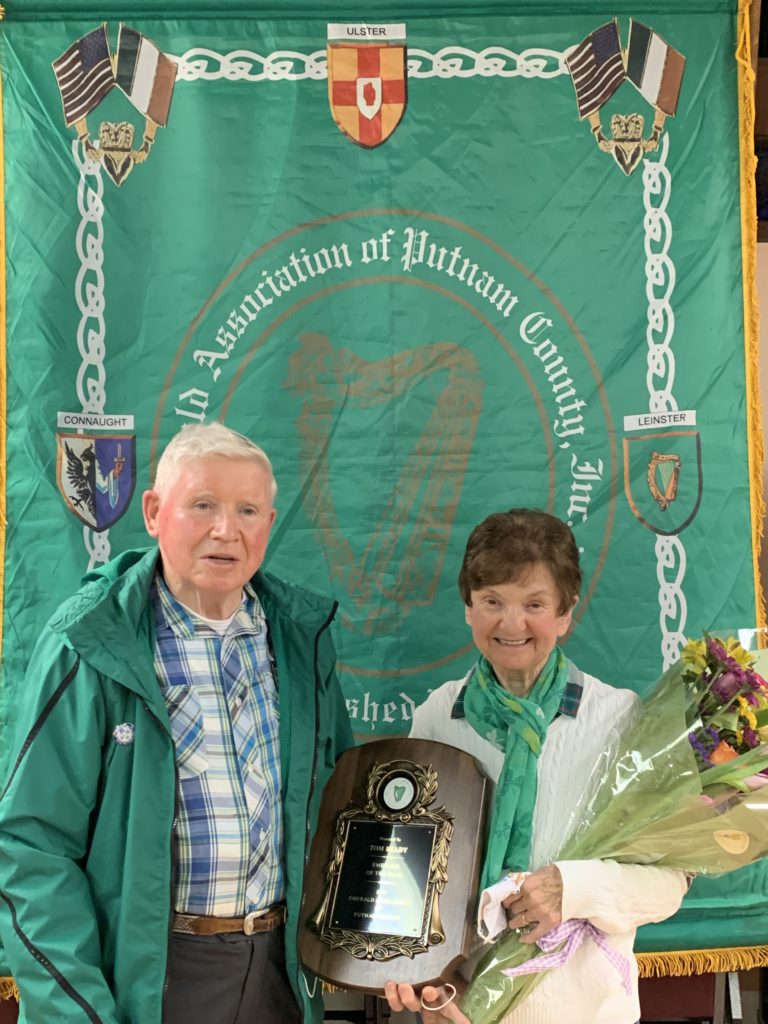 Tom was born in Enaghan, Co. Longford Ireland to Susan and Tom Brady and is the second oldest of seven children. Tom attended Cortober National School and went on to Technical School in Ballinamuc.
After Technical School Tom apprenticed in Carpentry Workshop at McManus Workshop in Carrigallen, Co. Leitrim and was a member of the ASW (Amalgamated Society of Woodworkers) in Ireland. McManus manufactured and supplied all the necessary interior woodwork for new schools and churches mainly in the west of Ireland including the first self-service store "Quinnsworth" in Longford town. Toms commute to work every day took him through a part of three provinces.
Tom immigrated to the United States in 1961 and lived in New Rochelle, NY. He became a member of the Carpenters Union in Westchester. In 2012 Tom received a gold watch for 50 years of service in the Union.
Tom met the love of his life Beatrice O'Donnell (who hails from Co. Roscommon) in the Red Mill in the Bronx and was married in Holy Spirit Church in the Bronx in 1967. Tom and Beatrice moved to Yorktown Heights in 1971 and are happy to still call it home!
Tom and Beatrice have four children – Kevin (Laura), Sean, Brain (Lori) and Tom (Christina). The Brady's are blessed with 8 treasured grandchildren – Patrick, Brendan, Sheamus, Sophie, Emma, Reese, Thomas (the 5th) and Martin.
Tom is one of the founders of the Retired Carpenters Club and where he currently sits as Vice President. He is also one of the founders of the Irish-American Social Club in Yorktown Heights and Board Director of the Tara Circle. Tom is also a member of the KBIC Club in Wappingers Falls.
As an Emerald, Tom continues to use his carpentry skills and expertise to help with the set up of our Annual Feis each May. You will see Tom on the day of the Feis helping out in any capacity needed. Tom and Beatrice also enjoy participating in the Emeralds activities and can be seen enjoying a waltz at our annual St. Patrick's Day Dinner Dance. As an avid historian of the Irish culture, Tom shares with the membership information he thinks would be of interest.
As a long time member of the Emerald Association of Putnam County, Tom is honored and humbled to be selected as Emerald of the Year 2020 and looks forward to a great evening celebrating with friends and relatives.